Testimonials for Ardes's Work
Web Development & Logo Design
Client: Prof. Jennifer Saul, Director of the Implicit Bias Project
I just keep gazing at my beautiful website and feeling very, very happy.
Web Development & Logo Design
Client: Ricky Staniforth, Director of Distinctive Doors
Again may I thank you for your excellent service. Over the last 8 years you have created many bespoke websites for us, including some very technically challenging sites, all of which have performed very well for us, helping draw customers to our products and aiding sales.

In our latest website (distinctivedoors.co.uk) you have really excelled in creating not only a modern looking site but also designing and integrating a complete website content management tool. This has simplified the maintenance of the site content so much that a job that previously took up to a week to complete was done in less than 6 hours. And the every day tasks now take as little as a few minutes instead of several hours.

As part of the latest stage of this website revamp you have created several logos for us, all of which have a themed style across the different ranges which we are especially impressed with. These help add a corporate identity to our brand but the way you have used the design also sets apart each product range individually.

I look forward to working with you on the next stage of the project, the integrated ordering system, and to working with you on our future projects.
Poster Design
Client: University of Sheffield, Philosophy Department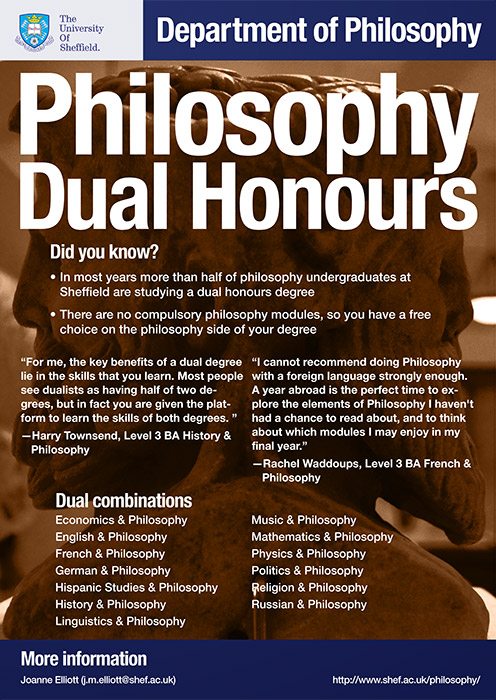 We couldn't be happier with the work from ArDes. Their most recent work for us was a wonderful advertising poster series. As in the past, the posters greatly improved on our original thoughts for the posters, they were delivered early despite a very tight schedule, and the finished product was of the highest quality. We don't know what we'd do without them!
Enterprise Web Development
Client: Nicholas Todd, Managing Director of Debt Ltd & EWB Estate Agents Ltd
Both Debt Ltd & EWB Estate Agents are well presented sites and easy to use even though extremely complex in their use of intranets; secure areas; and storage & recall of potentially large amounts of confidential data.

We would have no hesitation in recommending ardes for the design and construction of large, multi-functional websites.
Web, Logo & Graphic Design
Client: George Brown, Managing Director of Atlas Retail Consultants
As we've developed and grown, our working relationship with ardes has spanned many years. We like their work and approach—they're creative, trustworthy and pragmatic.
Web Development & Graphic Design
Client: Prof. Stephen Laurence, head of the AHRC Culture & the Mind Project
For over five years, I have gone to ardes for all my webpage and design jobs. From their first job, designing a poster for a project I was running, they have shown a fantastic design sense coupled with unparalleled professionalism. In subsequent projects, they have flexibly worked to meet my design needs, and always delivered an absolutely first-rate product at affordable rates. I would strongly recommend them to anyone with webpage or design needs.